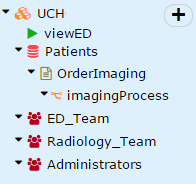 Capable.Co gives you the ability to organize and structure your business information the way you want using a folder-like tree called a TypeList.
A TypeList contains the business Records, Forms, Calendars, Views and Processes that best suit your business structure.
Using the TypeList, connections between information are created seamlessly and your data can then be collected and easily accessed.
Records can also be searched and exported.
Fields in a Record are easily modified to perform such tasks as generating real-time outstanding invoice amounts or calculating complex calculations based on other Fields.
With Capable.Co you decide what is required!