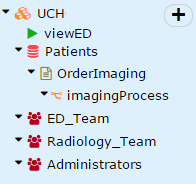 The Capable.Comunicator App - downloadable from the Google and Apple App Stores, gives quick and convenient notifications and access to chosen Organization data.
For example if you want to notify responsible Team members each time a Task is updated,
> Goto the Tasks Type,
>> choose On [Update] Notify [Responsible] via [App, SMS]

All subsequent updates to Tasks will send out a notification to the App,
OR
if the Team member is not subscribed, will fall back on sending an SMS.
It's that easy!